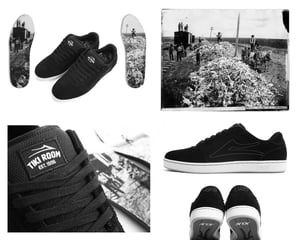 $

100.00
The Tiki Room has teamed up with Lakai Footwear to celebrate the 15th anniversary of the iconic Canadian skateboard shop. A custom colorway of Lakai's Manchester XLK model has been designed specifically with several features relevant to the Queen City in the shoe's design. Being the first collaboration that Lakai has done within Canada, this is a must-have item for anyone whose roots are in Regina's skateboard scene. The shoes are limited to a small run of 150 pairs, and are available exclusively at the Tiki Room beginning March 24, 2012.
*These press photos were shot in black and white. If you'd like to see the coloring of the shoe and would like to know more about the design itself, we suggest you view the video below.
Link to Tiki Lakai shoe video.